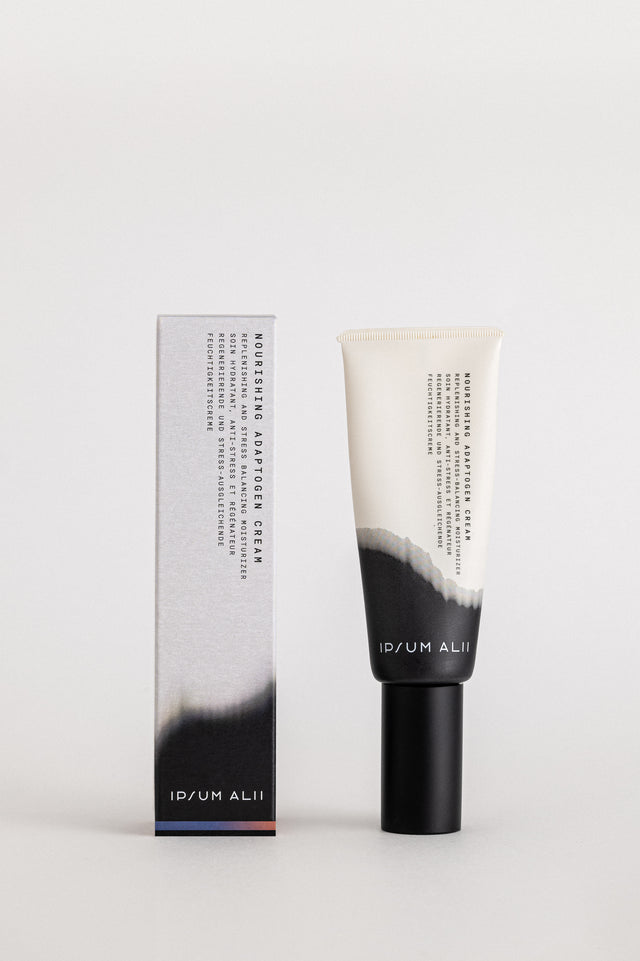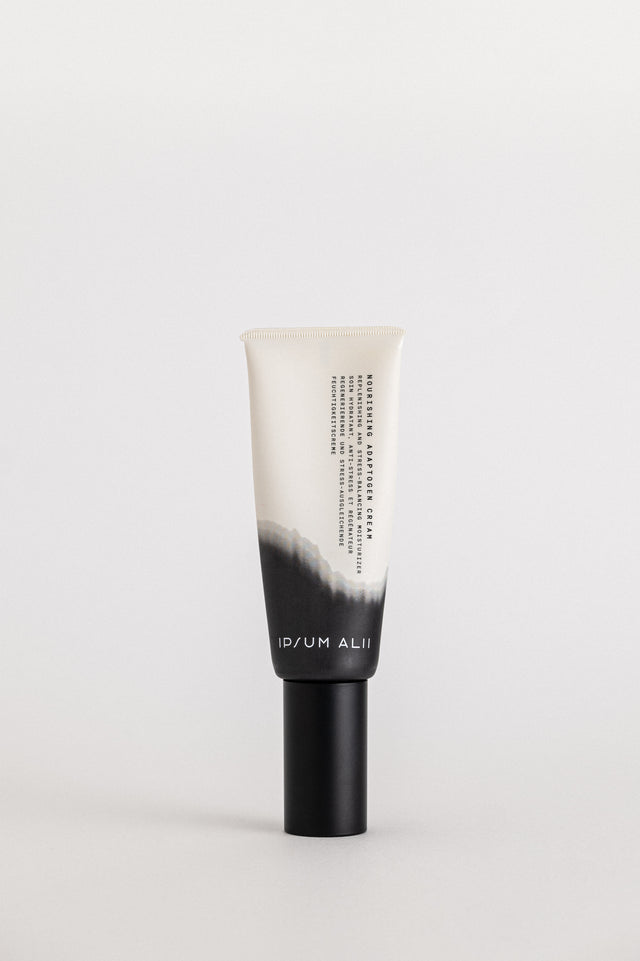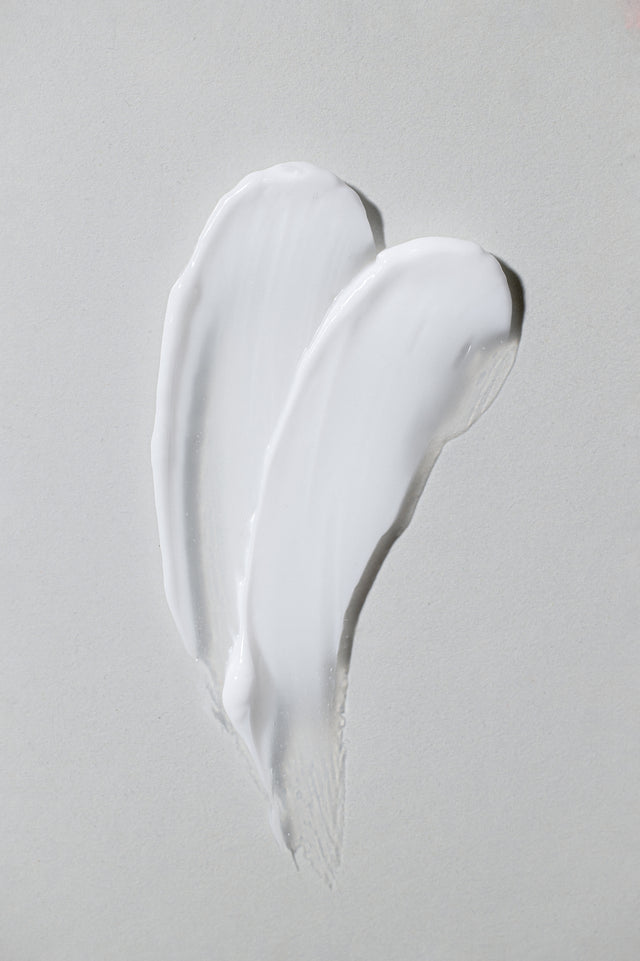 Nourishing Adaptogen Cream
Replenishing and stress-balancing moisturizer
This ultra-hydrating moisturiser comes with superior Kampo-based adaptogenic plant extracts. 
We added an extra layer of skin protection, with Reishi, Ukon, Akayajiou and Hatomugi extracts, with their stress-resistance effects.
The KI, KETSU and SUI elements focus on maintaining hyaluronidase levels, and deeply nourishing the blood cells, keeping the skin moisturised and smooth.
This moisturizer includes:
- an exclusive blend of 4 Kampo adaptogens
- high quality rice bran oil
- plant-based squalane
Size: 40ml / 1.4oz.
How to use
Application: morning and evening, apply 1 - 2 pumps to face and neck. This gentle and nourishing cream can be applied around the eyes. Your skin feels balanced and replenished with a lasting finish. Also great as a moisturising makeup primer.
Routine: the Nourishing Adaptogen Cream can be used immediately after a deep cleansing. You can add an exfoliation between the cleasing and cream application with our Skin Refining Gel as it will help the skin absorb the cream's nutrients keeping your skin moisturised and smooth.

Ingredients
Ingredients (INCI): water(3), oryza sativa (rice) bran oil(1), isopropyl palmitate(1),(2), glycerin(1), caprylic / capric triglyceride(1), glyceryl stearate SE(1),(2), pentylene glycol(2), stearic acid(1), polyglyceryl-2 diisostearate(1), ganoderma lucidum (reishi) stem extract(1), curcuma longa (ukon) rhizome extract(1), rehmannia Chinensis (akayajiou) root extract(1), coix lacryma-jobi ma-yuen (hatomugi) seed extract(1),  squalane(1), hydrogenated rapeseed alcohol(1), polysorbate 60(1),(2), hydrogenated lecithin(1), carbomer(2), potassium hydroxide(4), butylene glycol(2), tocopherol(1), phenoxyethanol(2)
1 plant / 2 synthetic / 3 natural / 4 mineral origin
Shipping & Returns
We ship to all EU countries and Switzerland. Please get in touch with us via contact@ipsum-alii.com if you live somewhere else and we will find a solution.
Shipping Costs and Shipping Time
We will ship your order within 2-5 business days of receiving your order (excluding public holidays in the Netherlands and Switzerland). 
EU Countries 3-8 business days (7 EUR, free shipping for orders over 100 EURO)
Switzerland 2-3 business days (7 EUR, free shipping for orders over 100 EURO)


Returns
We have a 30-day return policy. We accept returns on new, unopened IPSUM ALII skincare products.
Please send your return to
in Switzerland:
Cargocare AG
IPSUM ALII
Embraport 7
8424 Embrach
Switzerland
in the EU:
CCD Logistics B.V.
IPSUM ALII
Twijnstraweg 15-17
2941 BW Lekkerkerk
The Netherlands
Return costs are not covered.
If you face any problems with a return, please get in touch: 
contact@ipsum-alii.com or +41 (0)78 799 66 08.
The best of the best in skin hydration.
I've been fortunate enough to get my hands on this beautiful product, (thank you Kikoc 💖)
I have noticed a visible difference in my skins appearance, with my skin feeling and looking healthy.
I look forward to these two talented ladies in expanding their market, (hopefully downunder!) if not at least to Japan!!
It's a beautiful cream ladies X
Perfect for different weather conditions
I've been using this cream for over two months. Highly recommend it.
In the past, I've used face creams from top American, and European brands, but I gradually realized that the prices of skincare products kept increasing while my skin remained the same. I became very frustrated. However, everything changed when I tried the Nourishing Adaptogen Cream. It makes my skin glow and provides excellent hydration without feeling sticky. It's perfect for different weather conditions. This one product fulfills all the requirements, and it's also very convenient to carry. I no longer need to travel with a huge bag of skincare products.
Gentle Moisturizing Face Cream: A Must-Have for Sensitive Skin and Product-Stealing Spouses
I recently tried this face cream that has quickly become one of my favorites. It's a gentle moisturizer that effectively hydrates my skin without feeling sticky or greasy. I also appreciate that it has no added fragrance, as fragranced products can sometimes be irritating to my sensitive skin.
But the best part? My husband has been stealing it from me and using it himself! He has noticed a difference in the overall texture and hydration of his skin since using this moisturizer.
Overall, I highly recommend this Nourishing Adaptogen Cream for anyone in need of a gentle and effective moisturizer. Its fragrance-free formula makes it suitable for even the most sensitive skin types, and it's so good that even your spouse might want to borrow it.
Nourishing but not oily
I have started this cream a month ago and love it. I used it mostly during the day while I use an oil at night. My skin is plumped.
The texture is amazing!
I really love this cream. It smoothes onto your skin like silk. It doesn't peel, it doesn't clot, it doesn't smell. Very agreeable. The skin is soft and the cream works perfect as a primer before wearing make up.
I have very very dry skin in winter. to make the cream a bit richer I add a little drop of oil. Then its perfect!
Boosts hydration
Builds and maintains your skin's hydration levels
Balances skin microbiome
Support a healthy skin microbiome with Kampo adaptogenic herbs coupled with rice-bran oil and plant-based squalane
Protects skin
Balances, protects and strengthens skin protective barrier
Reishi Mushroom
Reishi extract has anti-inflammatory, anti-redness and antioxidant benefits. It is known to smooth fine lines and strengthen your skin's protective barrier. 
Ukon (Japanese Turmeric)
Ukon extract has anti-inflammatory and antibacterial benefits. It can improve troubled skin and also help reduce redness from blemishes and calm skin conditions like eczema and rosacea.
Akayajiou Root
Akayajiou root extract works wonders for skin health. It is considered a Yin tonic with powerful antioxidant benefits. The root of Akayajiou is rich in polysaccharides, a skin-replenishing overachiever.
Hatomugi Seeds
Used regularly, Hatomugi Seed extract - the powerhouse herb - smoothes, refines, and tones your skin, and delivers extra moisture to prevent dry and rough skin.